Reading Time:
8
Minutes
Published :
June 17, 2022
Recruiting and onboarding are two of the biggest challenges HR managers face daily. They meet an insatiable demand for talent, but the talent pool continues to shrink steadily. As a result, finding the right candidate has become more urgent than ever in the talent crunch. But the challenge gets even more significant once you've found the perfect candidate.
When you spend countless hours recruiting, identifying, interviewing, and hiring top-notch talent, all your hard work goes down if the new hire leaves for a greener pasture. Or, what if a candidate agrees to an offer, confirms the notice period, and agrees to a date to join but then backs out at the last minute?
Would a more structured employee onboarding process make such an occurrence less likely? Will it increase employee engagement, foster loyalty among new hires, and improve employee retentiveness?
What is Employee Onboarding?
Employee Onboarding consists of introducing new hires to the company's environment and culture. However, the time taken to accomplish that may vary from organization to organization. For example, the consensus among human resource professionals is that the onboarding process should take at least three months. A new hire will:
Acknowledge their role and responsibilities

Adjust to their changing environment

Meet their managers and coworkers

Discover company data security policies, functioning, and protocols
An onboarding employee program can last up to 12-18 months, involving not only human resources teams (HR Professionals) and people managers but also managers and co-workers for a smooth onboarding experience and relationship building with the in-office and remote employees.
It begins when a candidate agrees to an offer and ends when the employee has become fully integrated, productive, and contributing. It begins when a candidate accepts a job offer and ends when the employee has become fully integrated, productive, and contributing.
Although paperwork and administration are part of the employee onboarding process, Cultural and social acclimatization, and support to reach peak productivity are essential.
What's the Importance of New Employee Onboarding Process?
The Employee onboarding process of new hires usually takes place over the first few weeks of their employment. An effective employee onboarding process may tip the scales mainly in your favor, even though it may not appear to be the case at first glance.
During this time, employees learn about your work culture, get to know their managers and peers, and get their first impressions of your company.
According to CareerBuilder, approximately 93% of employers believe that a great recruit onboarding experience influences their employees' decision to stay or leave. Employees face uncertainty and confusion without an onboarding program and may have difficulty adapting to their new roles.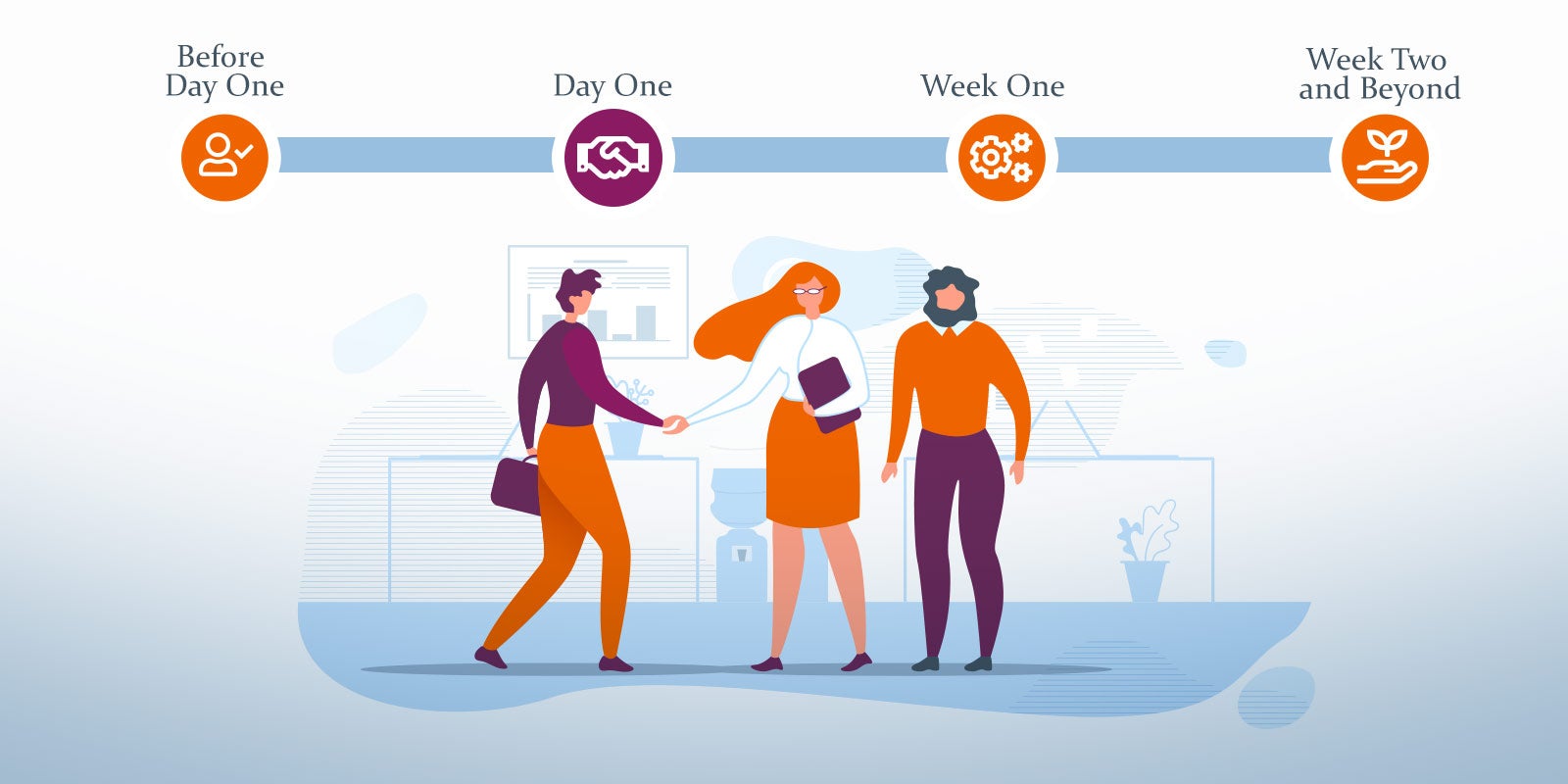 (Source)
Here are a few advantages of having an employee onboarding platform:
1. Enhancing Employee Retention
Taking the onboarding time with new employees will help both you and your managers to maintain long-term relationships with your new hires. 
Hiring new employees can be a complicated and expensive process. When you hire new employees, you will want to retain the best.
2. Improving Your Branding
A good onboarding program will enhance your company's brand, both directly and indirectly. Employees who are happy with their new workplace and fit well into their new jobs will want to share their experiences.
3. Increasing Employee Satisfaction
Employees who are more knowledgeable about their jobs and skills are more likely to make meaningful contributions to the company. In addition, they will be better positioned to handle obstacles with the proper mentoring and guidance. Job satisfaction also translates into positive word-of-mouth promoting your brand.
4. Productivity Enhancement
When your employees understand your company culture, values, and core beliefs from the beginning, they can share similar goals. In addition, the new employee who will feel empowered by the onboarding process will likely want to contribute to its success.
Employee Onboarding Checklist for New Employees
Effective new hire onboarding programs lead to superior job performance, increased efficiency, and higher employee satisfaction – all indicators of a high level of engagement and employee retentiveness. In other words, a comprehensive onboarding program is a win-win for everyone involved.
According to Gallup, 88% of businesses don't onboard efficiently. During the first week or month when a prospective employee joins their new job, there are many things to keep in mind. 
A new onboarding process can ensure that you do not forget any critical steps. Here are 12 items you can include in your onboarding checklist:
1. Provide Confirmation to HR
Before hiring a new employee, submit a job requisition document to the human resources department for approval. An employee may also need to pass a background check.
2. Prepare New Hire Paperwork
Print off the employee handbook and provide information about the benefits package for the new employee to review. 
Collect all the documents the new employee will need to complete on their first days, such as tax forms, various contracts or agreements, payroll information & administrative tasks.
3. Procure Instruments & Equipment
Ensure the new hire has all the equipment and devices they will need when arriving. Everything from the employee's computer and phone to their keyboard and mouse should be set up when they arrive.
4. Set up accounts & Logins
Ensure that your IT team, facility manager, and accounting department know that the employee will need all the required access credentials to enter the building. 
Ensure that their company email is set up and collect their login credentials for various tools and platforms to access the software and applications they need to do their jobs.
5. Set up the workspace
Make sure the employee has a clean desk and chair at their office, as well as any other items they need at their desk. 
If possible, send the employee a welcome kit with company-branded items, office supplies, or a gift like a mug or small plant if they will be working remotely.
6. Send a welcome email to your new hire.
Ensure you email your new hire about their first day with important information (such as start date reminders, dress codes, first-day schedules, and parking directions) before arriving.
(Source)
7. Assign a mentor/buddy
Provide your new hire with a buddy or peer within their department who can act as a mentor during the first few weeks of their employment. 
A mentor can turn the new hire into a successful team member by preventing them from feeling alone as they navigate their new role.
8. Schedule time for onboarding feedback
Plan a meeting after the new hire has been on board for a week or two to discuss their adjustment and whether they have any suggestions for onboarding. 
This discussion may reveal areas to improve the onboarding process or things you can include in the onboarding checklist.
9. Set up a 30, 60, and 90-day check-in plan
Meetings should be scheduled regularly with the new hire after their first month, the second month, and the first quarter. These meetings will allow the new hire to address concerns or feedback about their training and assess how well they're adjusting.
What are the Different Roles and Responsibilities of Employee Onboarding?
Organizations use the phrase "Onboarding is everyone's responsibility" frequently, but without actionable items and accountability, the program will never succeed.
While every organization is unique in how the onboarding responsibilities are distributed, these guidelines provide general guidance for allocating duties and accountability during the onboarding process:
1. Human Resources Department
Complete and collect paperwork from employees (e.g., forms, benefits); review work hours, and review organizational history and charts.
2. Training Department
Conduct training sessions; facilitate discussions about organizational culture, goals, and objectives; review company videos. This would include organising formal external training as part of a development plan for the employee. For example, many organisations use Power BI dashboards to monitor progress. If an employee doesn't have experience of using them, they will need training in how to use a Power BI dashboard.
3. Supervisor
Discuss duties and responsibilities; review work expectations, work behaviors, the organization's standards, and procedures; introduce team members; tour the department; discuss other roles within the department.
4. Colleagues
Make the new employee familiar with how the group works together, how to get things done, where to get tools and equipment, and who to contact for help.
5. Executive Team
Describe organizational culture and roles and responsibilities at a high level; assist employees in understanding the organization's mission, vision, values, and strategic goals and objectives.
6. Mentor/buddy
Introduce team members to others within the organization, go over informal rules and company policies, and answer daily questions.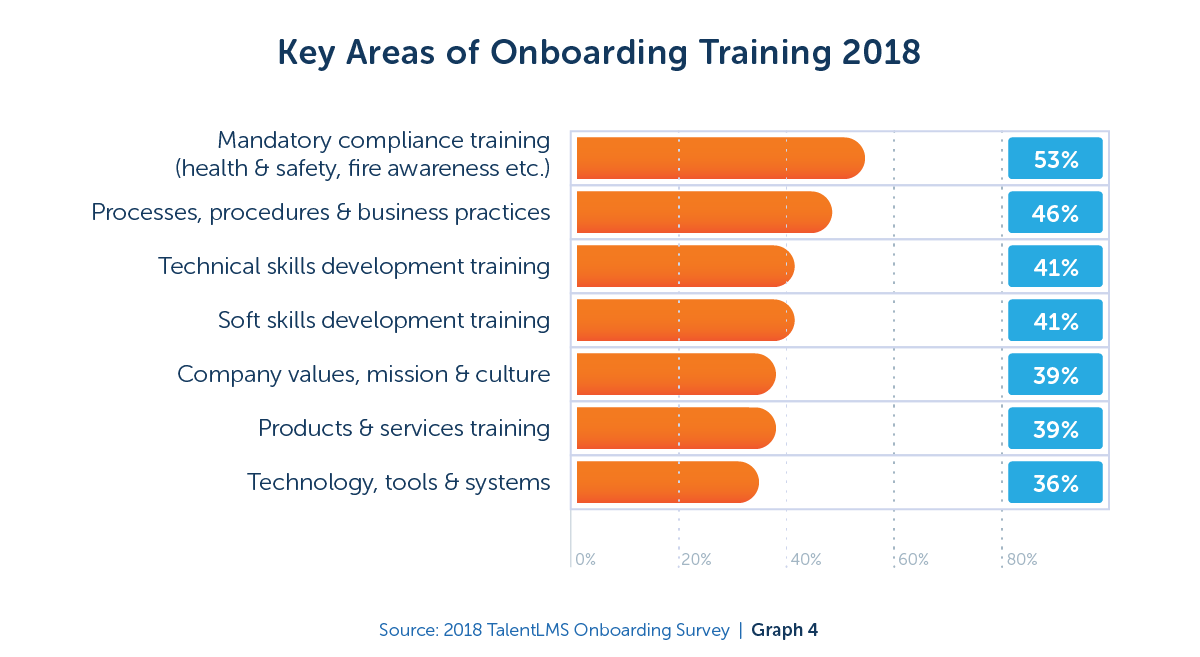 (Source)
8 Metrics to Measure Employee Onboarding Success
The hiring manager should evaluate the organization's onboarding program using a variety of metrics that matter to the organization. Examples include:
Time-to-productivity

is a metric that measures how long it takes for new hires to get up to speed and contribute to the organization. Key performance indicators need to be defined for each position, and time to productivity is measured in days.

Analyze the turnover/retention

rates for various "graduating classes" (e.g., those who started their employment in a particular year) and track the differences between them.

Retention threshold

, For example, the organization may want to conduct exit interviews to determine why new employees leave during the first 90 days of employment.

If the organization tends to lose many other employees during these 90 days, the organization may wish to conduct

in-depth interviews

to find out the cause.

To learn where new employees' pain points are, survey them at different intervals during their first year of employment. You should also study

buddy/mentor appointees

to learn what they think is working and what isn't.

Engagement and employee satisfaction are the two related metrics because how we begin our careers in an organization creates a first impression that's hard to change. Meeting starts with onboarding and creating a culture representing the organization's values increases employee delight.

Comparing a group that received only a week's worth of onboarding in the past to a group that received an entire month as part of a revised program can provide

insight into performance.

Employers may wish to speak to recent new hires in small groups or conduct this

research one-on-one

to find out if they are satisfied with the employee onboarding process and the organization as a whole.
How Successful Employee Onboarding have a Positive Effect on Company's ROI?
Having an employee onboarding process that works is not cheap, but it will have a positive effect on your company's bottom line. You should focus on the following to get the best ROI:
Getting new hires engaged even before they start (i.e., preboarding)

Provide the best possible employee experience to ensure retention

Taking onboarding beyond the usual 90 days to ensure full competency

Increasing employee engagement with social and cultural integration

Appointing mentors
Better onboarding accelerates the ability of your enthusiastic, engaged employees to ramp up and start generating revenue – and increases their likelihood of staying with you.
7 Tips for New Hire Employee Onboarding Process: 
Adding to and streamlining your onboarding process is a living process ready for constant improvement. Here are some tips and tricks to remember as you decide how to simplify and enhance your process.
Defining and improving your company's onboarding process begins with documenting your processes.

Gather feedback on the onboarding process from everyone involved, including new hires, hiring managers, and even co-workers, to get ideas for improvement and ROI calculations.

Measure and adjust onboarding to give new hires what they need to feel welcomed using emotional intelligence in addition to a more formal onboarding program and pulse checks.

If you're working with remote employees, you can't expect interactions and relationships to happen by chance. Therefore, you must rely on disciplined scheduling.

Don't be afraid to work with multiple people throughout the ongoing process. If you know someone who would be a good match for the new hires, introduce them.

Make the employee onboarding experience personal, Pay attention to details, and be honest throughout the hiring process. Recognize new employees' accomplishments and ideas as soon as possible.

Ask new employees what they are interested in learning and connect them with experts at your company or suggest possible ongoing training opportunities.
Conclusion
Onboarding effectively is an essential part of any talent management strategy. As recruiting costs increase, business leaders must understand that effectively integrating new hires into their organization will ensure their success. 
In addition, a clear understanding of who owns and controls various steps in the onboarding process is critical to onboarding sustainability and success over time.
A simple document won't help new recruits succeed. Instead, the key is to engage them in conversations that will help them understand each other and how they interact over time. 
Combining effective onboarding with HRM best practices will encourage continuous learning, and new hires will learn more quickly, improve communication, and be more productive and engaged in their jobs.
Frequently Asked Questions
Onboarding is the procedure of introducing recruits to an organization. Also known as organizational socialization, onboarding is essential to ensuring that employees are comfortable with their new roles and responsibilities.
It communicates corporate brand and values, explains your people and professional culture, aligns expectations and performance, and provides employees with the tools to assimilate effectively into their new roles with a faster ramp-up to productivity.
Employee onboarding is transitioning from an interviewing candidate to a fully-integrated team member. Everyone onboards new hires, but many onboarding programs skew more administrative than strategic.
You have to have each hire complete paperwork, get them an email address, access to software and office equipment, and introduce them to key team members.
HR onboarding is a new employee's process to become familiar with their organization. It begins when an offer is made to the employee until they become a productive member of the company.
Orientation is typically a one-off event aiming to welcome new hires, assist them in adjusting to their roles, and let them know what to expect from the company. The purpose of orientation is to familiarize employees with the organization's policies, job roles, responsibilities, and other concepts and attributes that will assist them in their transition.
Onboarding is often confused with orientation. While orientation is crucial for completing routine paperwork, onboarding involves management and other employees, and it can last up to 12 months.
If you are welcoming a new member, consider following these steps:
Write a brief greeting
Use a cheerful and friendly tone
Add relevant information
End the message with a positive ending note like Goodluck! or Feel free to contact me!
Updated : October 26, 2023
Let's Stay in Touch
Subscribe to our newsletter & never miss our latest news and promotions.
+21K people have already subscribed