Engage in live conversations instantly using ControlHippo Live Chat
Elevate your customer engagement with the Live Chat feature from ControlHippo. Connect instantly with your customers via WhatsApp, offering them immediate support and assistance in real-time.
Trusted by 4000+ companies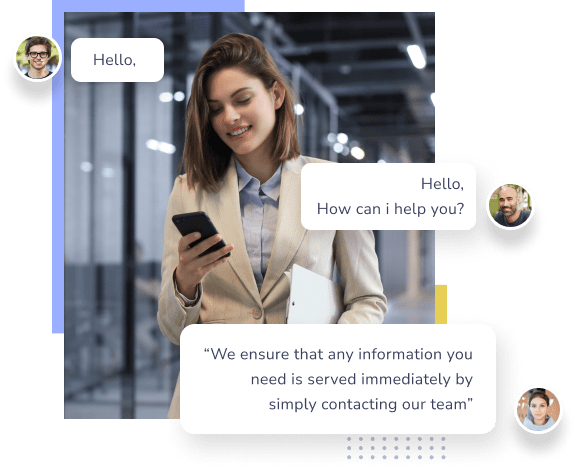 Witness Increased Efficiency
Reduce response times with predefined message templates

Engage with customers 24/7, even outside of business hours

Enable multiple agents to handle queries simultaneously, ensuring prompt resolutions.
Personalize Customer Experience
Welcome customers with tailored messages based on their preferences.

Gain insights into customer behavior and preferences for personalized recommendations.

Automatically trigger messages based on specific actions or events, enhancing user satisfaction.
Track chat volume, response times, and customer satisfaction scores in real-time.

Gather valuable insights directly from the conversation for continuous improvement.

Monitor the impact of live chat on lead generation and conversions.
Integrate Your Systems. Streamline Your Workflow.
ControlHippo's integrations establish connections, automate tasks, and enhance efficiency by seamlessly linking your tools to streamline workflow and improve communication across platforms.
Unlock Seamless Communication with ControlHippo!
Elevate your customer support experience with live chat software. Get started with ControlHippo!
Frequently Asked Questions
Live chat software enables real-time communication between a website visitor and a company representative. It's a messaging tool integrated into a website that allows users to type messages and receive instant responses from support agents.
Live chat offers several benefits, including immediate customer support, increased customer satisfaction, reduced response times, the ability to handle multiple conversations simultaneously, and the potential to gather valuable customer feedback.
Live chat is often preferred over calling for its convenience. It allows customers to multitask, doesn't require waiting in phone queues, provides a written record of conversations, and offers quicker access to information. However, some situations may still warrant a phone call, depending on the complexity or urgency of the issue.
The future of live chat is likely to involve further integration with AI and automation. This could include advanced chatbots, personalized customer experiences, and seamless integration with other communication channels like social media. Additionally, improvements in natural language processing will enhance the effectiveness of live chat interactions.