Elevate with WhatsApp Business API
Unlock the power of WhatsApp Business API to revolutionize customer connections. Seamlessly integrate messaging for real-time support and personalized engagement with WhatsApp Business API. Elevate your customer experience now!
Trusted by 4000+ companies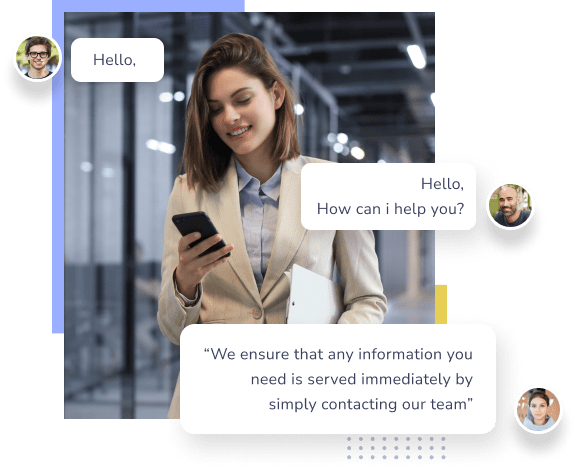 Enhance Customer Satisfaction With Data-Driven Insights
Gain insightful analytics and communicate in real-time to create strong customer relationships.

Personalize interactions by tracking customer behavior and preferences to improve customer satisfaction.

Monitor message delivery and engagement rates and keep customers engaged with timely, relevant messages.
Efficient Workflow Integration
Seamlessly incorporate WhatsApp business API for your existing systems.

Enhance team collaboration with WhatsApp integration API for faster issue resolution.

Sync WhatsApp chats and customer data with your CRM to reduce response times and increase customer satisfaction.
Expand Reach And Growth Potential
Overcome geographical barriers and tap into new markets with WhatsApp messaging API.

Send promotions, updates, and product launches to a wider audience.

Launch targeted marketing campaigns and improve your services based on insights.
Over 4,000 Customers
What customers worldwide think of ControlHippo.
"ControlHippo is Revolutionizing Customer Relations!"
ControlHippo's WhatsApp Business API has completely changed how we interact with customers. It has dramatically improved client satisfaction, enhanced response times, and streamlined communication. A must for any customer-centric business!
John Clark
Customer Experience Manager
"
Controlhippo is by Far the Best Solution for Our Sales Team.

"

WhatsApp Business API from ControlHippo significantly accelerated our sales efforts. Our customer interactions have improved through its integration and personalized engagement capabilities, which have led to excellent sales increases. For any sales team, it is a must-try!

Andrew Micthell
Sales Director
Integrate Your Systems. Streamline Your Workflow.
ControlHippo's integrations establish connections, automate tasks, and enhance efficiency by seamlessly linking your tools to streamline workflow and improve communication across platforms.
Optimize Communication With Our WhatsApp Business API
Elevate your messaging game with WhatsApp Business API. Optimize communication for a seamless, efficient, and engaging customer experience.
Frequently Asked Questions
No, WhatsApp Business API is not free. It typically involves associated costs for businesses. Pricing structures may vary, and it's advisable to check with WhatsApp's official documentation or authorized providers for detailed pricing information.
While WhatsApp Business API itself is not free, you can explore free or open-source automation tools to streamline your messaging processes. However, keep in mind that these tools may have limitations, and for advanced features or higher volumes, you might need to consider paid solutions.
WhatsApp Business API is designed for businesses of various sizes. The capacity largely depends on your chosen service provider and the associated pricing plan. It's recommended to consult with your provider to determine the appropriate user limits based on your business requirements.
Yes, WhatsApp Business API is designed with security in mind. It employs end-to-end encryption, ensuring that messages exchanged between businesses and users remain private. However, it's crucial for businesses to adhere to WhatsApp's guidelines and best practices to maintain the security and integrity of their communication on the platform.