WhatsApp Shared Inbox for Streamlined Communications
Streamline communication, collaborate efficiently, manage customer inquiries, and enhance team coordination. Work seamlessly without making a switch between multiple channels.
Trusted by 4000+ companies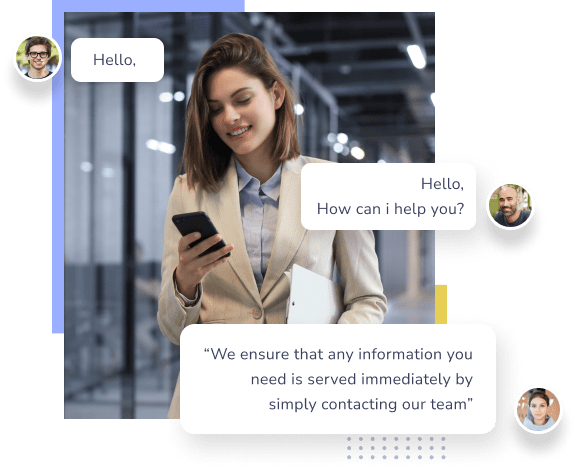 Effortlessly Add Users and Manage Conversations
Easily delegate chats among team members for swift resolution.

Assign conversations seamlessly, enabling efficient teamwork on chats.

Streamline collaboration by adding multiple users to a shared inbox for the team.

Facilitate shared responsibility, assigning chats without complexity.
Maximize Efficiency with Powerful Tools and Integrations
Integrate apps for streamlined workflows, boosting engagement.

Prevent message oversight with easy integration for

WhatsApp teams

.

Integrate tools for enhanced communication and accessibility.

Personalize interactions by utilizing integrated data across platforms.
Simplify Customer Interactions for Seamless Engagement
Consolidate all WhatsApp messages into a unified

WhatsApp team inbox

.

Simplify monitoring & avoid message duplication with

WhatsApp inbox.

Provide a single interface for viewing and responding to messages.

Ensure consistency in customer interactions across the platform.
Achieve Cost Savings through Streamlined Support Management
Reduce operational costs by optimizing workflows & response times.

Minimize resource allocation by strategically managing inquiries.

Avoid message duplication and streamline processes with WhatsApp inbox.

Achieve substantial savings by improving efficiency in operations.
Over 4,000 Customers
What customers worldwide think of ControlHippo.
"The Ultimate Solution for Streamlined Communication"
ControlHippo has transformed how we handle customer inquiries. Its shared inbox streamlines communication and increases productivity. ControlHippo is a must-have for businesses looking to thrive in customer service and collaboration. Highly recommended.
Emily Jeffrey
Marketing Specialist
"ControlHippo is What Every Sales Person Thrives For!"
ControlHippo has revolutionized my sales strategy.  With its intuitive features and powerful tools, I can streamline leads, manage clients, and close deals faster than ever. It's a game-changer for anyone who is committed to success in sales.

Joshua Miller
Sales Manager
Integrate Your Systems. Streamline Your Workflow.
ControlHippo's integrations establish connections, automate tasks, and enhance efficiency by seamlessly linking your tools to streamline workflow and improve communication across platforms.
Get a Firsthand Experience: Try ControlHippo FREE
Redefine your communication game. Streamline teamwork and enhance customer satisfaction. Get started with ControlHippo today!
Frequently Asked Questions
A WhatsApp inbox refers to the section within the WhatsApp application where users receive and manage their messages. It is essentially the area where incoming messages, media, and other communications are organized for easy access and response.
WhatsApp Business is designed for a single user. Each account is linked to a single phone number, and it is intended for use by small businesses or sole proprietors. But ControlHippo provides multiple WhatsApp Business account.
Yes, a normal person can use WhatsApp Business if they wish to utilize its features for personal branding, consulting, freelancing, or any other business-related activities. However, it's important to note that WhatsApp Business is designed with business features in mind, so individuals might find the regular WhatsApp app more suitable for personal use.