WhatsApp Automation For Your Business
Optimize your customer experience through the robust capabilities of ControlHippo's WhatsApp Automation feature. Elevate your messaging efficiency, reduce response times, and foster meaningful connections with your audience using WhatsApp Automation.
Trusted by 4000+ companies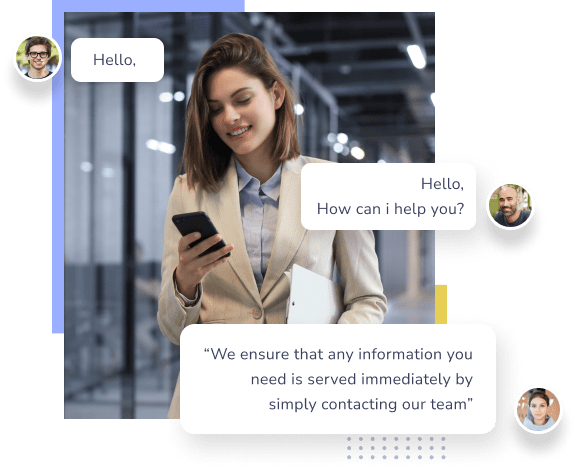 Enhanced Efficiency and Productivity
Automate routine responses, freeing up valuable time for personalized interactions.

Ensure prompt replies around the clock, even during high-volume periods.

Seamlessly manage multiple conversations within a single shared inbox.
Personalized Customer Experiences
Tailor messages with dynamic variables for a personalized touch.

Segment your audience and deliver targeted content that resonates.

Provide instant, accurate information without delays or human errors.
Improved Customer Satisfaction and Loyalty
Respond to inquiries promptly, fostering trust and reliability.

Engage in proactive communication to address customer needs before they arise.

Build long-lasting relationships that increase retention with automated whatsapp messages.
Why Engage with Customers on WhatsApp?
Global Reach and Accessibility
WhatsApp boasts over 2 billion users worldwide, providing a massive audience base.
Preferred Communication Channel
Customers prefer messaging applicantions for their convenience and ease of use.
Rich Media Capabilities
Leverage images, videos, documents, and location sharing for comprehensive communication.
Elevate Your Customer Engagement Game
Send Bulk Campaigns
Effortlessly reach a wide audience with targeted campaigns, ensuring your message is heard loud and clear.
Collaborate with Team Inbox
Empower your team with a shared inbox and embed chat widgets on your website for seamless communication.
Green Tick Verification
Establish credibility and authenticity among your customers with the coveted green tick verification using ControlHippo.
Monitor Chat Analytics
Gain invaluable insights into customer interactions to refine your messaging strategy and drive business growth.
Over 4,000 Customers
What customers worldwide think of ControlHippo.
"The Ultimate Solution for Streamlined Communication"
ControlHippo has transformed how we handle customer inquiries. Its shared inbox streamlines communication and increases productivity. ControlHippo is a must-have for businesses looking to thrive in customer service and collaboration. Highly recommended.
Emily Jeffrey
Marketing Specialist
"ControlHippo is What Every Sales Person Thrives For!"
ControlHippo has revolutionized my sales strategy.  With its intuitive features and powerful tools, I can streamline leads, manage clients, and close deals faster than ever. It's a game-changer for anyone who is committed to success in sales.

Joshua Miller
Sales Manager
Integrate Your Systems. Streamline Your Workflow.
ControlHippo's integrations establish connections, automate tasks, and enhance efficiency by seamlessly linking your tools to streamline workflow and improve communication across platforms.
Engage Better with Smart Automation
Ready to transform your customer engagement on WhatsApp with automation? Try ControlHippo today and experience the future of messaging automation.
Frequently Asked Questions
Yes, it is possible to automate WhatsApp to some extent. Businesses and developers can use the WhatsApp Business API to integrate messaging and automate certain processes. However, it's important to note that full automation might be subject to WhatsApp's policies and guidelines.
To set up an automated message on WhatsApp, businesses can leverage the WhatsApp Business API. This involves integrating with the API and configuring message templates for specific scenarios. The setup process may vary based on the platform and tools used, so it's recommended to follow the official documentation and guidelines.
Yes, text messages can be auto-generated using automation tools or scripts. However, it's crucial to ensure compliance with WhatsApp's policies and regulations to avoid any issues related to spam or misuse. Businesses using the WhatsApp Business API can create predefined message templates for specific use cases, ensuring a standardized and automated messaging process.